Product Demo Video Production
Product videos show off your product in the best way possible, and after all, video speaks much louder than words...
Why get a product demo video to market your product? One of our clients has had more than 740,000 views on their videos and are dominating YouTube for all of their keywords. Don't get left behind!
Market your products online
Increase the conversion rate of your website
Make your company an authority in your market through YouTube
Drive more traffic to your site through video search optimisation
Increase brand awareness
Increase customer engagement through, for example, product FAQ's
"We're more than impressed with Ben and the end results are stunning. Since working with Ben we've had a massive boost in our brand. We now dominate YouTube for our keywords and have over 740,000 views across all our videos. What can I say? Get in touch."
Dan Levy & Joel Meadows
Product demo video production Brighton – Check out my latest work below:
Product Marketing Video – OverBoard
OverBoard manufacture waterproof bags designed to keep your gear dry and sand free when you're on a beach or a boat, and they decided that producing a series of videos for their products was a brilliant way to show them off in a quick and easy way. So, we created a series of marketing videos for them on the island of Sal in Cape Verde, off the coast of Africa (getting some kitesurfing in too!) and more recently the British Vrigin Islands. They specifically wanted to film on the beach, which meant shooting in challenging conditions, with waves crashing in the background and a 25 knot wind. The presenter (my wife Annelies) gave the videos an editorial feel for added authenticity.
Product Web Advert – Wall Bed King
This is a great example of how marketing & product video production can work for you. This web advert was created for Wall Bed King, the UK's leading wall bed manufacturer, who were looking for the best way to show off their products online and attract more customers. This simple, straight forward advert, which was created for the home page of their website, has massively increased their conversion rates, and at the same time, helping them make more product sales. The video currently has over 46,000 views on Youtube.
Artist Collection – Bex Simon
Bex (my sister) wanted an arty video to show off her new kitchenware collection. We began by shooting a proper interview with "BBC" style lighting but, as she became more relaxed and felt like she had it "in-the-bag" so to speak, I asked her to deliver her story of becoming a blacksmith and kitchenware designer straight to camera. It was shot hand held and using a very close crop to create a more intimate vibe. We finished the whole look of the piece with old film scratch effects and a cool sound track. The video echos her pieces nicely, creating something new out of traditional techniques. She's really happy with the results.
Software Web Advert – Kortext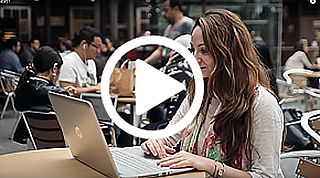 Kortext, the UK's top digital textbook platform, were looking for a way engage with their target audience, and what better way to explain the benefits of your software platform than a positive testimonial from happy clients? We have created over 20 videos for Kortext, such as this slick software advert, mixing live-action scenes & screen capture.
A Happy Client – OverBoard
Dan Levy - Founder of OverBoard
Client Case Study
Current YouTube Rankings
With over 740k views in total
1st  Waterproof Bag
1st, 2nd & 3rd Waterproof Rucksacks
2nd Waterproof Multipurpose Case
1st Waterproof Dry Tube Bag
1st, 2nd & 3rd Waterproof Dry Flat Bags
2nd Waterproof Backpacks
1st, 2nd & 4th Waterproof Duffle Bags
1st, 2nd, 3rd, 4th & 5th Waterproof Holdalls
3rd Waterproof Mp3 Case
1st Dry Bags
Need a quote?
If you want help producing a product demo for your website click the button below to Get a Quote, or alternatively, give us a buzz on 01273 448110 or 07789 712314 or 07766 306310